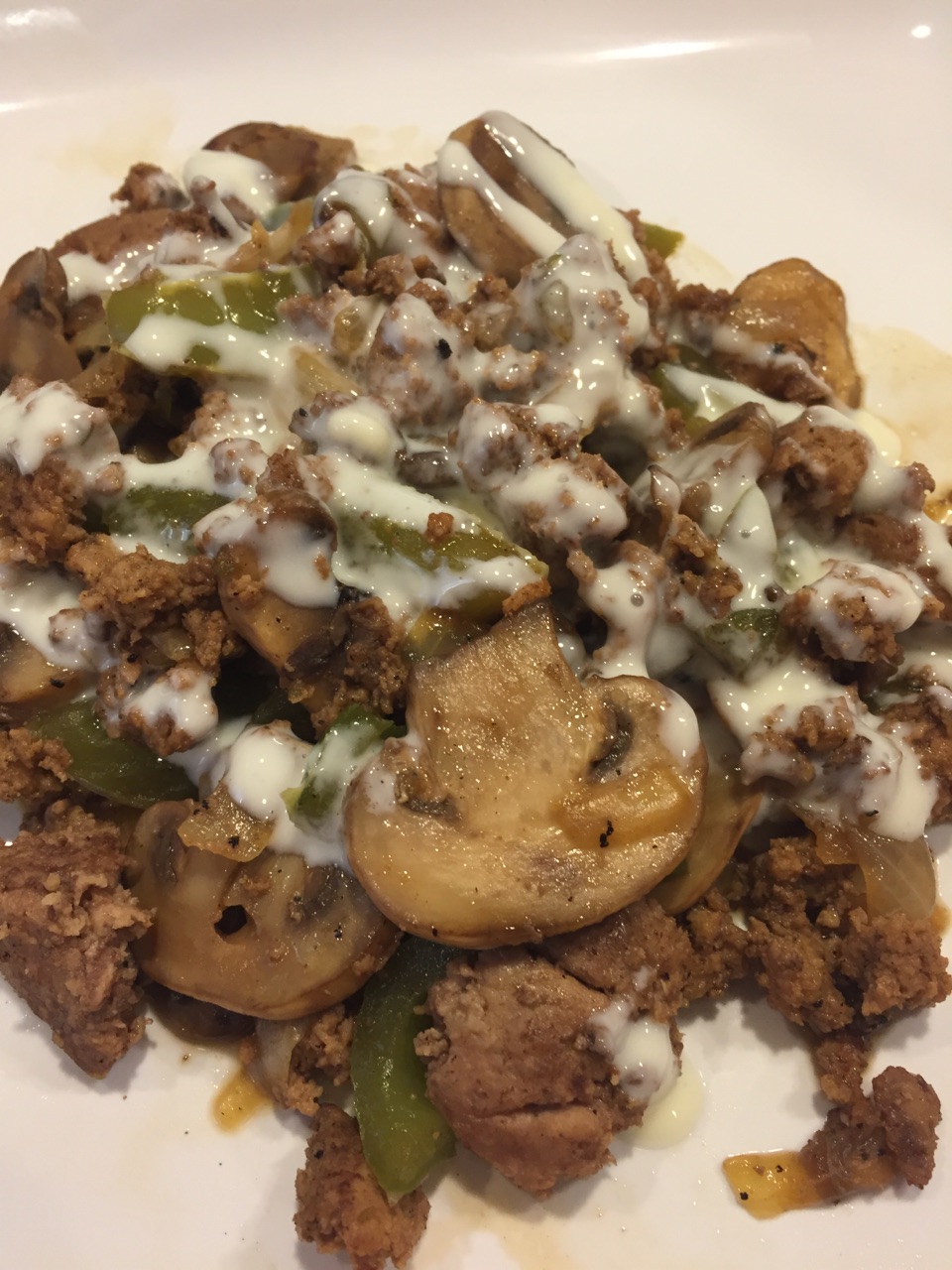 I love Philly cheesesteaks.  I mean, I could seriously have one every day of the week and never get tired of them!  I just love them!  The savory meat with the green bell peppers and onions and mushrooms with cheese or cheesesauce and the soft bread…I've never met a Philly I didn't like.  I'm not too crazy about the ones made with Cheese Whiz, but I would eat one of those, too.
But we are low-carbing right now, so sandwiches are not a thing in this house.  BOOOOO!
I came up with this to satisfy my inner cheesesteak yearnings without messing up our low-carb diet.  It's not some earth-shattering, WOW! THIS IS SO ORIGINAL! kind of recipe.  But it is still amazing!  All the flavor of a Philly Cheesesteak without all the carbs!
Low-Carb Philly Cheesesteak in a Bowl
3 pounds of ground meat (beef, turkey, venison, chicken)
1 large (softball-sized) onion, chopped
4 green bell peppers, chopped
1 pound of sliced mushrooms
Beef broth
Olive oil
Salt
Pepper
16 ounces of Velveeta Queso Blanco, cubed
1/2 cup to 1 cup of milk
In a large skillet, crumble the ground meat and brown over high heat.  Sprinkle with 2 teaspoons of salt and a teaspoon of black pepper.  When meat is almost done, drain off any liquid and continue to brown until meat begins to caramelize.  While meat is browning, chop the onions and bell peppers and slice the mushrooms, if you have whole ones.  When meat is done, pour it into a bowl and set aside.
Drizzle a couple of tablespoons of olive oil into the same skillet and add the onions and mushrooms.  Sprinkle with a teaspoon of salt and a half-teaspoon of pepper and sautee 3-5 minutes until onions begin to soften and then add the bell peppers.  Sautee another 5 minutes or so until the peppers are as soft as you'd like them.  Add the meat back into the skillet and add 1 cup of beef broth.  Stir to combine.  Taste for seasoning, adding more salt and pepper, if you'd like.  Cook on high heat, stirring frequently until as much liquid has cooked out as you'd like.
While meat mixture is cooking, place Velveeta cubes and 1/2 cup of milk into a microwave-safe bowl and heat for 1 minute.  Stir.  If there are still lumps, heat for another 30 seconds.  If the cheese sauce is too thick for you, add a little more milk.
Serve meat mixture in bowls with the cheese sauce drizzled, ladled, or poured over the top.
Well Duh #1:  Cut the onion and peppers into pieces that are about the same size.
Well Duh #2:  I used a carton of pre-sliced white mushrooms.  You could use creminis, if you like, and you could buy whole mushrooms and slice them yourself.  I chose the cheapest option.
Well Duh #3:  You absolutely do not have to use Velveeta.  I know that some people just don't like to use processed cheese.  You could make a great bechamel sauce and add provalone cheese or even white cheddar.  Bechamel is just a white sauce made with butter, flour, and milk – basically milk gravy.  And then you add the cheese and stir until melted.  There are tons of cheese sauce recipes all over the internet.  Do what makes you happy!
Well Duh #4:  Why add the beef broth if you're going to reduce it?  The mixture tends to be dry – especially if you're using a lower-fat meat like turkey, chicken, or venison.  The beef broth adds some moisture to the mixture, as well as adding some yummy beefy flavor.  Don't do red meat?  Use chicken stock instead.
Well Duh #5:  If you're not low-carbing, use this bowl of bliss on soft sandwich rolls!  I know that will be the first thing I do when we take a break from the low-carb life!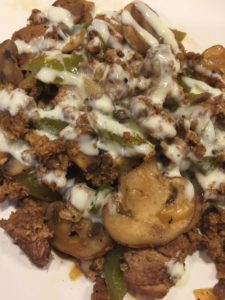 This was such a hit with my family that I can't even describe it!  There was talk of licking bowls and second helpings and eyes-closed-oh-my-gosh-this-is-so-good! all around.  The meat mixture freezes well – or it will next time when I make more so that there's some left over!  As it was, there was about a cup left and I put that into a container in the refrigerator.  Somebody got up in the middle of night and ate that.  All I found the next morning was an empty container and a spoon!  I didn't fuss.  It's good stuff!